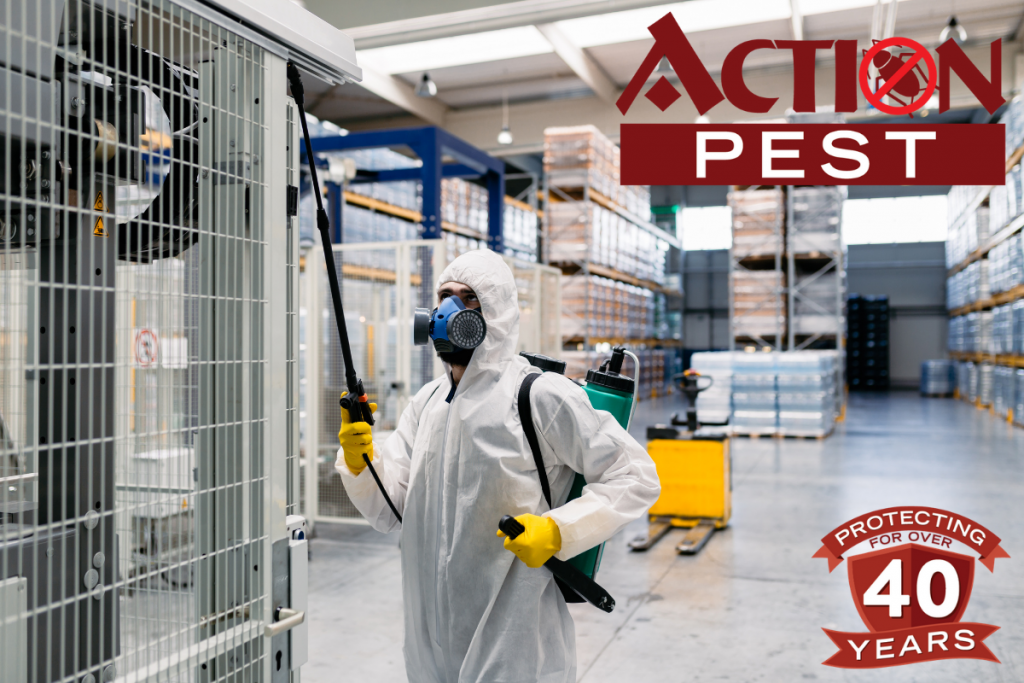 Finding pests can be an annoying ordeal, and getting rid of them can be a lot of hard work. Not to mention, where do we even begin? With so many options available, the best thing to do is to hire a professional. There are different types of pest control options available. Let's take a brief look at them:
1. Chemical Treatment
This form of pest control uses chemicals to prevent pest growth. This is the most commonly used method as chemicals are the most effective in getting rid of unwanted pests at a greater scale. There are organic, inorganic, and synthetic insecticides available that remove pests with great success.
2. Biological Pest Control
Biological pest control means the use of living organisms to remove pests from a certain location. Parasites, predators, and plant pathogens are introduced as biological control agents and attack specific pests for easy removal. The benefit of using biological pest control is that it is the most environmentally friendly method available, but it is not as efficient as chemical pest control.
3. Electronic Pest Control
Advances in technology have provided alternative methods of dealing with pests. Electromagnetic gadgets are available to target the nervous system of certain mice, rodents, and other insects to repel them.
4. Physical Methods
Physical pest control means putting physical barriers such as plastic sheets or nets to stop pests from accessing crops and infiltrating homes etc. This also includes using traps for pests that have already made themselves at home. This method is good for bigger pests and smaller quantities.
Of the above-discussed pest control methods, chemical treatment is the most effective method. But this method can be potentially toxic and dangerous depending on the chemicals being used. Only professionals with years of experience should be hired to administer the use of insecticides.
Some Factors to Consider
There are a number of things customers should consider before buying pest control from anywhere. The first should be to check the integrity of the service provider. This can be done by going through their web page and reading reviews and testimonies. Another suggestion for customers looking into pest control is to get quotes from at least two to three places and compare the prices to determine if somebody is trying to rip you off. If the rates are too good to be true, in most cases it is. An important thing to keep in mind while looking for a pest removal service is the number of years that service has been operational. The more years they have under their belt, the more experienced their staff and the more reputable and trustworthy the service will be. They've probably seen it all.
Action Pest Control offers the most accommodating pest removal services and has extensive experience in the field. They offer the best services at the most suitable prices. Now let's take a look at the steps a professional pest control service might take:
1. Thorough Inspection
A professional from your hired service will travel to the infested destination for a thorough inspection. This will allow them to determine the scale of infestation and also point out the points of entry. A thorough inspection will point out all the hidden colonies of pests and also determine if there is any weak structure that promotes the growth of these pests.
2. Applying Chemicals
The next step then is to administer the use of chemicals. Only a certified professional can do this as most of these chemicals can be toxic and deadly. Chemicals will be applied to areas such as points of entry, weak structures and other places where pests are most likely to reside. 
3. Coming Back to Ensure That No Pests Have Survived
After the chemical has been applied and left for some time. The professionals will arrange a time with you to come back and determine if the application of chemical substances was a success or not.
4. Providing Warranty
Professional pest control services will always provide you with a guarantee for a limited time period. It entails that during this time period no pest will enter your property and survive, once the proper chemical has been administered. Some pest control services like Action Pest Control offer the best guarantee in the whole region. Action Pest's job is not done until you are 100% satisfied with the results. 
5. Best Services & Value for Money
Professional pest control services provide the best value for your money. They provide excellent service at an affordable rate. That is the final step of a professional pest control company.
If you are looking for a pest control service that is reliable and trustworthy, then there is no need to look any further. Action Pest offers the best services at the best rates. They have certified professionals to administer the use of chemicals in the field. They also give the longest guarantee in their field.
A lot of times service providers don't turn out to be what they appear to be. To get a consultation or if you have any further questions and inquiries please contact us or visit our site. You can read previous customer reviews to determine the quality of their service. Our website also offers a free estimate generator that will tell you the estimated amount for your desired services in your desired place.