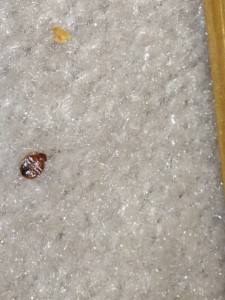 You may be at risk from bedbugs while travelling .
Bedbugs have been found in 5 star hotels, resorts, cruise ships, buses and trains. You're at a much higher risk in places with a high turnover.
To be safe from infestation; inspect your room when you arrive, and if possible don't bring your luggage into the room until you have done this. Look for black/brown spots which are blood or feces, or actual live or dead bedbugs on mattress, box spring seams, headboard, bed frame, cushions, and pillows. If you find any signs, leave the room and ask for another, or find another hotel.
Do not put your suitcase on the bed, or floor, and don't unpack your clothes. If possible; keep your suitcase in a sealed, clear plastic garbage bag away from the bed and floor.
Thoroughly inspect your suitcase and all clothing for bedbugs before bringing anything into your home when you return from travel. To be safe; launder all items in hot water and dry on high for a minimum of 30 minutes. Anything not washed should be put in dryer on Hi for 30 minutes. Leave cases out in sub zero weather, or hot sunny weather for 4 days if possible.
If you find bed bugs or notice any bites shortly after your return home, contact a professional pest management service to properly treat the problem. Action Pest Control Services can have an experienced technician to you in less than 24 hours!
Call today for a free inspection @ 905-318-1242