1. Vacuuming is very important. Do a thorough vacuum job of all affected mattress and box-springs and any carpeting and also the baseboards.
2. Remove bedding and clothing from the affected room and either wash and dry or just put them through a hot dryer cycle for 30 minutes.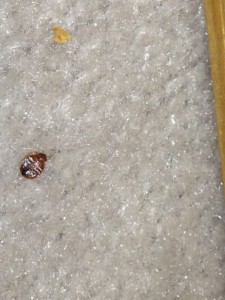 3. Inspect mattress and box spring for either insects or blood stain dots.
4. Put certified bed bug proof mattress covers on mattress and box spring.
5. Call the professionals at Action Pest Control and get it treated properly. Bedbugs are difficult to see and treat on your own. Our licensed technicians will treat all affected areas as well as hidden spots such as wall voids and cracks and crevices where the elusive bedbug likes to hide in between blood meals. Also if you are not sure, then ask that bed bug detection dogs be used. We use them a lot and they have been proven to be exceptionally effective every single time.
Call Action Pest Control today for your free inspection @ 905-318-1242