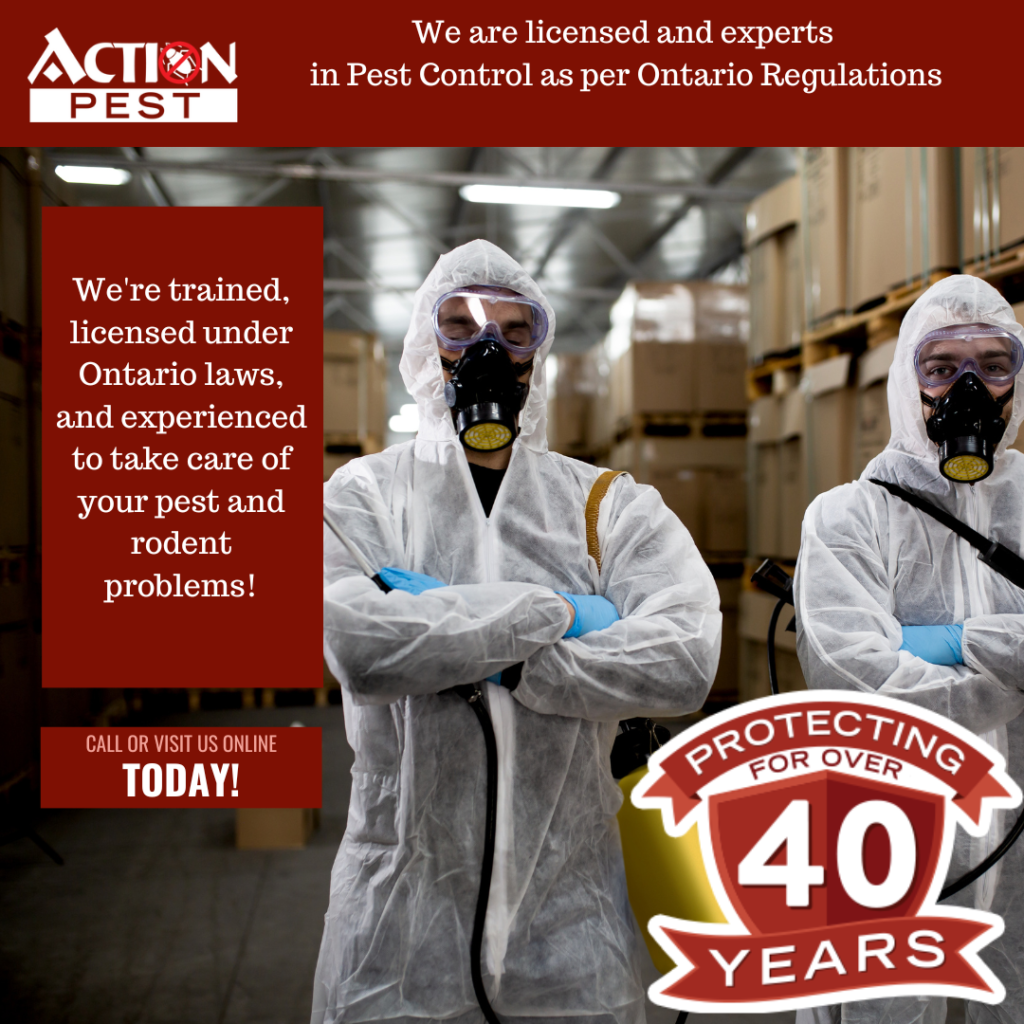 Pest infestation is an issue many Ontario residents face in their homes and workplaces, regardless of the season. From ants and cockroaches to bed bugs and rodents, these pests can be difficult to get rid of on your own. To ensure a successful and safe solution, it is important that you enlist the help of a licensed pest control company that follows all provincial government regulations. By having knowledgeable experts handle your pest removal needs, you can rest assured that the job will be done quickly and effectively.
Action Pest offers professional pest control services throughout Ontario to keep homes and properties free of pests. The company follows strict regulations set out by the Ministry of the Environment, Conservation and Parks and is dedicated to protecting public health and the environment with safe and effective solutions. With Action Pest's extensive knowledge on a variety of pests, they can effectively diagnose and rectify any residential or commercial pest issue. Customers can rest assured that their property is in capable hands thanks to Action Pest's commitment to using only the most reliable products and techniques available.
In addition to obtaining a license, pest control companies in Ontario are also required to follow Integrated Pest Management (IPM) practices. IPM is an approach that focuses on preventing and managing pests by using a combination of methods, including monitoring, inspection, exclusion, and chemical control as a last resort.
When Action Pest provides services, we begin with a thorough inspection of the property to identify the source of the pest problem. Based on the inspection, they develop a customized IPM plan that addresses the specific needs of the property and the pest issue.
If chemical control is deemed necessary, Action Pest follows strict guidelines for the safe use and application of pesticides. This includes using the minimum amount of pesticide necessary to achieve the desired result, and ensuring that the pesticide is applied in a way that minimizes exposure to people, pets, and the environment.
In addition to these regulations, Action Pest also prioritizes environmental sustainability and uses eco-friendly products whenever possible. This not only helps to protect the environment, but also reduces the risk of exposure to harmful chemicals for people and pets.
We are locally owned and operated for over 40 years in Hamilton and surrounding areas.  You can trust Action Pest with any of your pest control needs.
Overall, understanding the regulations that govern pest control companies in Ontario is important when selecting a company to address your pest issues. Companies like Action Pest that follow these regulations provide safe, effective, and environmentally friendly solutions to pest problems, while also ensuring the protection of public health and the environment