For the past 30 years, we have been using and perfecting the integrated pest management program.  Jim miner; owner and technician at Action Pest Control, completed the intensive pest management course at Purdue University , in Lafayette Indiana in 1978 and designed the program we now use.
Our goal is first to come out and INSPECT your property, then IDENTIFY the problem to be sure what we are dealing with, then systematically plan our course of action to fully ELIMINATE your problem, and give guaranteed results for up to one year.
We give you our professional opinion and a written report to educate you on how we will all work together to fully solve your bedbug problem.  With our 30 years of experience, we will walk you through the process of heat systems, steam units, spray tanks, aerosol cans, micro injector systems, power dusters, and our patented 3 part system that contains the problem and eliminates it.
Single family homes are the most contained for bugs, but attached homes and suites in multi unit buildings need every surrounding unit inspected, that would share wall voids, water pipes, or heating pipes or conduits through stream radiators.  We need to know if the bugs have spread, and this is important data to have; as containment is crucial to rid you of the problem.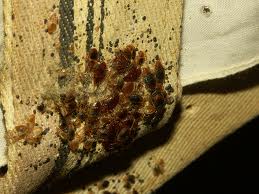 Your co-operation is the most important factor  for complete elimination.  We need you to vacuum daily, more than once.  Vacuum all carpets, baseboards, mattresses, and furniture.  Please be aggressive and thorough, as bedbugs don't like light and are very elusive and evasive.
We will discuss all treatment options with you at no charge, but the bottom line is that we guarantee, in writing to eliminate the problem.  In 2012, we fully eliminated two of the worst infestations I have seen in my career, with not one live bug left; using three full treatments.  Action Pest Control is definitely the leader in this industry, as I was in the business when the first major outbreak of bedbugs happened in the 1970's and know how they were wiped out.  We also have ample manpower, where a lot of  local companies are either 1 or 2 man companies who lack the latest equipment.  We also have numerous written and signed references for your perusal.
We INSPECT….we IDENTIFY….we ELIMINATE!
You Sleep Better; we guarantee that in writing.
For any questions you have, please contact Jim Miner,PCT, President @ [email protected], or call 905-318-1242 today for a free inspection.